Son of Richard Carveth and Dorcas Gerrans, father of Dorcas Carveth and husband of Margaret Andrew
Richard was baptised at Probus, Cornwall on 30th May 1748.
He grew up on the family farm at Barteliver and Carvosso in Probus.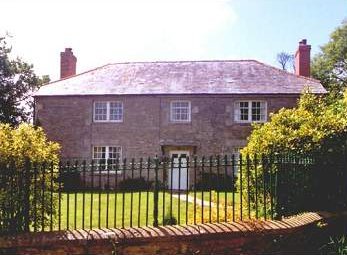 On 11th May 1769 he married Margaret Andrew at St Michael Penkivel – see Andrew Family History.
Barteliver Farmhouse is now a small hotel
Richard and Margaret had ten surviving children, all baptised at Probus, and details can be found on the following page
A Mrs James, whose family were friends of the Carveths and bought the Carveth farm, wrote in the 19th century "Richard Carveth had a splendid personality; often his sayings were quoted and his word was law. The Carveths were a fine old stock, of good descent. They can trace their pedigree through Le Despensers to Guy de Beauchamp, second Earl of Warwick. They had all the qualities of gentle birth; frank, honourable, and, I must say, loved to command; remarkable for their keen sense of honour. The Carveths were always true to Church and State; all dependants, as well as the family, were due in church on Sunday morning..... There was no smuggler's cave on the Carveth estate, and the squire was not a patron of cock-fighting". There is no evidence of the relationship claimed.
The Carveths were also described as a tall race, distinguished for dark hair and eyes and a fair skin; peculiarities which perhaps gave rise to the tradition, somewhat unlikely, that they had Spanish blood in them since the time of the Armada.
Richard died in December 1822 and was buried in Probus on 17th December 1822.
His will was dated 26th September 1822 and proved on 14th January 1823 at St Austell by a Francis Polkinhorne and Richard Carveth, Grandson, son of Rev. Richard Carveth
This non Parish information is from the book "Frederick Temple, Archbishop of Canterbury." Published by MacMillan & Co in 1906. Other data comes from a detailed family tree prepared by Pauline Duinka of Canada in the late 1970's and Parish records

by email if you want more information or if you have information to give me