Rev William Johnston Temple

Son of William Temple and Sarah Johnston, father of Octavius Temple and husband of Anne Stow
William was born at Berwick-upon-Tweed on 6th December 1739 and baptised at Holy Trinity Church, Berwick-upon-Tweed on 20th December 1739. His initial education at home was followed by his attendance at the Reading/Writing School established by the Borough Guild. Around 1750 he would almost certainly have attended the Borough's "free" Grammar School.
In the Autumn of 1755 William left Berwick-upon-Tweed for Edinburgh University, which he entered in 1756, matriculating in Michaelmas Term on 22nd May 1758. In Edinburgh he was a fellow student of Greek, in Robert Hunter's class, with James Boswell, the biographer of Dr Johnson, and Henry Dundas, subsequently Viscount Melville. William and James Boswell became lifelong friends. However, they differed in politics and other respects, for William was a Whig and a water drinker – the opposite of Boswell. Their correspondence is in print from 29th July 1758.
On 22nd May 1758 he was admitted pensioner at Trinity Hall, Cambridge and on 5th February 1759, he became a scholar on the foundation and was admitted to the Middle Temple. At Cambridge, he met and befriended Gray, the poet. His name was taken off the books on 20th November 1759 and he went to London where William and James Boswell became law students together at the end of 1762. William took chambers in Farrar's building at the bottom of Inner Temple Lane and in July 1763 he lent these rooms to Boswell.
His father, having become a bankrupt in May 1762, William felt obliged to contribute towards his relief more than half the proceeds, which he had inherited from his mother. He was consequently forced to earn an income for himself, and this was found in the church.
To achieve this he was re-admitted as a Fellow Commoner at Trinity Hall on 22nd June 1763, obtaining LL.B in on 28th June 1765; his name being taken of the books again on 17th June 1766.
William was an amiable man of cultivated and literary tastes. His friendship with Gray at Cambridge and Boswell at Edinburgh led to his introduction to Dr Johnson at the Mitre Tavern in Fleet Street, while William was on a visit to London in 1766.
On Sunday, 14th September 1766 he was ordained deacon at a particular ordination held in the Chapel at Exeter, by Bishop Keppel. On the following Sunday he was ordained by Bishop Keppel at a general ordination in Exeter Cathedral. On the following day he was presented by Wilmot Vaughan, fourth Viscount Lisburn (first cousin once removed) to the rectory of Mamhead nr Exeter, where he remained until 1776.
Having courted Anne Stow since 1764, they married on 6th August 1767 at Holy Trinity Church, Berwick-upon-Tweed. The Parish Register records that William was Rector of Mamhead, Devon and Anne of this Parish. The witnesses at the wedding were Isabel Stow, sister, and David Stow, probably her cousin. In October 1767 William and Sarah settled in Mamhead
William and Ann's Children are on the following page
In 1768 William was again in financial difficulty owing to the continuing payments to his father and the bankruptcy in August 1768 of Fenwick Stow, Anne's cousin and a merchant led to William losing £1000 of his wife's "portion". See the story of this bankruptcy
He found time in 1768, however, to correct his friend Boswell's "Account of Corsica".
In May 1770 William considered separating from his wife, but did not do so. In September 1770, William went on business to Berwick-upon-Tweed and travelled on to Edinburgh to stay with Boswell at Chessel's Building, Cannongate for about 10 days. By November of that year he had sold part of his estate and in the Spring of 1771 was in great distress "through filial piety" and requested a chaplaincy in Italy, which was not granted.
A character of Gray was written by William in a letter to Boswell a short time after the poet's death on 30th July 1771, and was published by Boswell, without William's knowledge, in "The London Magazine" for 1772, page 140. Mason also incorporated William's character of Gray in his "Life of Gray" and Johnson included it in his "Lives of the Poets"
In May 1773 William was forced to sell his fisheries on the Tweed. During a visit to London in the same month, William dined at the house of the Dilly brothers, publishers in the Poultry, with Dr. Johnson, Goldsmith, Langton, James Boswell and others. In July of that year William met James Boswell again in Edinburgh and stayed for about 8 days.
In April 1775 Boswell visited William in Mamhead. Meanwhile, in 1774, his literary skills had been noticed by his Diocese and by November 1775 Bishop Keppel had made William his Chaplain and received the promise of the best living in the Diocese. Accordingly, on 9th September 1776 Keppel installed William as Vicar of Gluvius with the Chapelry of Badock, adjacent to the towns of Falmouth and Penryn in Cornwall.
William spent the rest of his days in Gluvius with an income of £500 a year from public and private sources.
In September 1780, William travelled through part of England and had two pleasant interviews with Bishop Hurd. Boswell and his two eldest daughters visited him at Gluvius in September 1783 and William, with his daughter, Nancy, travelled to London in May 1790, paying a visit to Boswell and his daughter, Veronica. Boswell came Gluvius again in 1792.
On his many visits to London in the 1780's, William had frequent visits to and dinners with his relations, James Boswell. Lord Lisburne, his wife's first cousin once removed, formerly Viscount Lisburne – see note on David Stow; and the "step" first cousin of his wife, Sir Francis Blake – see note on William Stow.
In 1792 the Cornwall Library and Literary Society was founded at Truro, mainly through William's hard work.
When Boswell died in May 1795, he left William a gold mourning ring and William, above the signature "Biographicus" wrote appreciatively of his friend in the Gentlemans Magazine of 1795, part ii page 634.
William also wrote "An Essay on the Clergy" and "On the abuse of Unrestrained Power".
In St Gluvius Churchyard the following inscription appeared on an inscription and stone.
Underneath this stone are deposited the Remains of the Revd. William Johnstonw Temple, late Vicar of this parish. Also of Anne Temple his beloved wife. Also of William Johnston Temple, their eldest son, late Ensign in the 46th Regiment of Foot.
William Johnston Temple died January 6th, 1787; aged 18 years.
Anne Temple died March 14th, 1793; aged 46 years.
The Revd. William Johnston Temple died August 13th, 1796; aged 50 years.
Also Robert George Temple, son of the above, died April 14th, 1849; aged 73 years.
Admiral Francis Temple died the 19 January, 1863; aged 92 years.

This monument was erected by the seven remaining children as the last mark of their respect for the memory of their beloved parents
The Gravestone to the left reads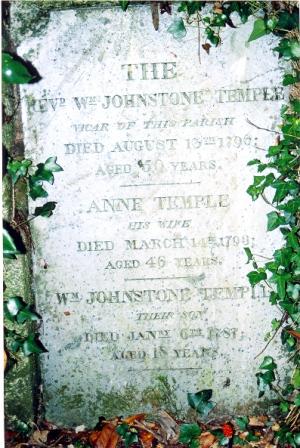 The Revd Wm Johnstone Temple Vicar of this Parish died August 13th 1796 aged 50 years
Ann Temple his wife died March 14th 1793 aged 46 years
Wm Johnstone Temple their son died Janry 6th 1787 aged 18 years
Much of The information concerning William and his family is contained two books:
"Diaries of William Johnston Temple" edited by Lewis Bettany and published by Oxford at the Clarendon Press 1929.
"The Correspondence of James Boswell and William Johnston Temple" - Volume 1, edited by Thomas Crawford and published by the Edinburgh University Press and Yale University Press
Much information also came from the Dictionary of National Biography
Many dates are from the Parish Records of Holy Trinity, Berwick-upon-Tweed

by email if you want more information or if you have information to give me