Joseph Nalton

Son of John Nalton and Jane Oxendale, father of Edith Nalton and wife of Elizabeth Hitchcock
Joseph was born in Driffield, Yorkshire about 1843.
According to the 1851 Census for Driffield, Yorkshire, Joseph, aged 8, was a scholar, born in Driffield and living with his parents, brothers and sisters at 77 Providence Place.
In 1861, he was, aged 18, still living with his family but at Wrangham's Yard, Providence Place. He was a cordwainer.
On 11th September 1864 John married Elizabeth Hitchcock. John was a Shoemaker, aged 22 and Elizabeth 21. They were both resident in Great Driffield. Elizabeth's father, John Hitchcock, was a labourer. The witnesses at the wedding were John Nalton, who signed with his mark and was probably Joseph's father, and Mary Ann Hitchcock, possibly Elizabeth's mother. Elizabeth was baptised in Ardley, Oxfordshire on 11th August 1844, the daughter of John and Mary Griffin, who married c. 1833 in Ardley.
The children of Joseph and Elizabeth are as follows
According to the 1871 Census, Joseph aged 28, still a Cordwainer, and Ann Elizabeth, his wife, aged 26 and born in Ardley, Oxfordshire, lived in East Gate, Driffield. Elizabeth must have started calling herself Ann Elizabeth around this time
According to the 1881 Census, Joseph aged 38, was still a Cordwainer, living with Ann Elizabeth, his wife, aged 36.
According the 1891 Census, the family were living at 53 Eastgate North, Great Driffield. Joseph was then a Shoemaker, aged 58 and Ann Elizabeth was aged 46.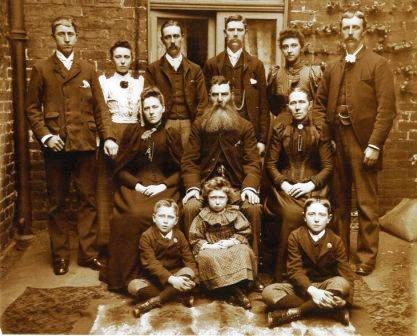 According to Bulmer's Directory of 1892 of Professions and Trades for Great Driffield, Joseph was a Boot and Shoemaker of 53 Eastgate North, Driffield
Joseph was still a shoemaker in 1895 when his daughter, Edith, was married.
The Nalton Family
Front Row left to right: Edwin, Ann Elizabeth, Harold
Middle Row: Edith and parents Joseph and Elizabeth
Back Row: Alfred, Rebecca, Albert or Fred, Arthur, Bertha, Albert or Fred
Joseph died, aged 58 on 29th October 1900 at 53 Eastgate North, Driffield. The informant was his son in law, John Gill, who was present at the death.
According to the 1901 Census Ann Elizabeth Nalton, widow aged 56, was living at 53 Eastgate North with the following children: Harold and Annie
Elizabeth lived into her 80's and was a most energetic lady who rode at horse until her 80's
The family information on Elizabeth was supplied to Kathleen Gill by Edith Nalton
Certain information on the Nalton family was supplied by Geoffrey Nalton, son of Harold

by email if you want more information or if you have information to give me