Muriel Rosina Owen

Eldest Daughter of Rex Lionel Bert Owen and Dorothy Rose Turner, mother of Robert Owen Hugh Gaskell and husband of Gerald Charles Gaskell
Muriel, throughout he life know as Mick, was born in Letchworth, Herts on 5th October 1919 and baptised at St Michaels & All Angels Church, Letchworth on 30th November 1919 The Officiate was Rev. Gerard K. Olivier, father of the actor, Lord Laurence Olivier.
Sponsors at Murielís Baptism were:
Frank Edwin Owen - Father's brother
Edith Turner - Mother's sister
Florence Troup - Mother's sister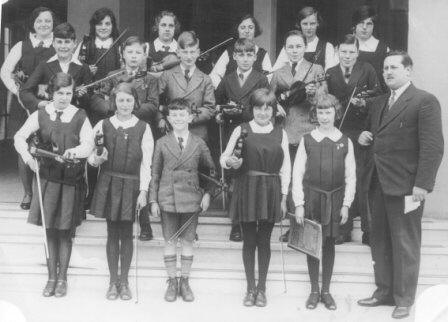 Muriel went to Hillshott Primary School, Letchworth at the age of 5.
Muriel right and Bob centre of front row about 1928
She took the 11+ exam when 11 but failed the interview, by the Headmaster, Mr Wilkinson, and went to Pixmore Secondary School for one year after which her parents paid for her to attend Letchworth Grammar School.
From a young age she had learned to play the piano, being taught by Clara Emily Griggs, Donald Griggs' mother (Donald was the husband of Muriel's younger sister, Ann Linda Dorothy Owen) Muriel became an accomplished pianist and while at the Grammar School she and her brother Bob entered the Amy Reynolds Music Competition on a number of occasions: They never won despite being the most accomplished musicians, losing to inferior musicians. The judging by the Headmaster, Mr Wilkinson and several of his friends, was the reason for this regular result.
When young her sporting interests were roller skating and playing tennis
When 16, Muriel left the Grammar School to start work at the Spirella Company, Letchworth, to be trained and then work as a shorthand typist. About 1938 she left to work as Secretary to the Manager of Barclays Bank in Letchworth; she remained there until just before her daughter Rosalind was born and went back there to work after Rosalindís death
From 1935 until early 1970 Muriel played piano for the Brotherhood Orchestra i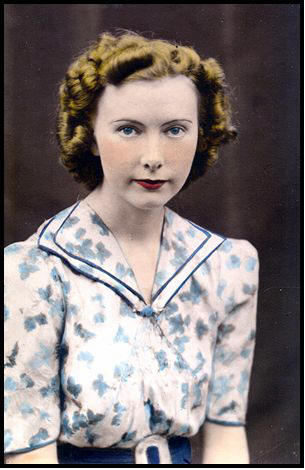 n Gernon Road, Letchworth. From about 1935 and for a number of years she also played piano for her Father, Rex, and his brother Frank, who taught Old Time Dancing in the Co-operative Hall and in a nearby village.
Muriel in 1938
Muriel and Bob attended St Michaelís Church in Norton Way from an early age, while their father played the organ at St Maryís Church, Old Letchworth. Muriel and Bob also joined the Young Peopleís Fellowship at St Michaelís and Murielís friends in the club were Gordon Rogers, Bernard Cox and Gerald his younger brother, Laurie Thorogood and his sisters, Yvonne Aldridge, and Donald Griggs. At the Grammar School her best friend was Marcelle, who sang to Murielís accompaniment.
In 1942, Gerald Charles Gaskell came to lodge at the home of Muriel and her parents, 31 Meadow Way, Letchworth. On 6th April 1943 Gerald and Muriel married at St Maryís Church, Old Letchworth, Herts. His address was then given as his parentsí house, The Corner House, Stowmarket and his job was listed as Engineer
Witnesses at the wedding were:
Hugh Selwyn Gaskell - Gerald's father
Rex Lionel Bert Owen - Murielís father
The best man was Hubert Goodman, husband of Joyce Owen, Murielís cousin. The Rev. E S Owen, Vicar of Staincross, Lincolnshire (Muriel's father's elder brother) officiated. Joyce was Muriel's closest cousin and they frequently met during their lives.
Initially they were happy together but the birth followed by the death of their daughter in April 1944 was cause of much unhappiness for them both. They considered renting a property in Broadwater Avenue, but Murielís mother disapproved of the property and put pressure on Muriel to stay at home. During 1944, 45 and early 46 Gerald and Muriel belonged to the Garden City Players, an Amateur Dramatic Society, and they both took part in a number of plays. The death of Murielís brother in February 1945 added to the distress in the family and all were invited for Christmas 1945 to the Corner House, Stowmarket, Geraldís parentsí home. Their son, Robert, was born on 8th May 1946. Two months prior, in March 1946 Gerald left and they divorced in 1948.
In March 1947, Muriel went to work as Secretary to the Clerk of Letchworth Urban District Council and later became Lettings Officer, Housing Department of LUDC, a job she held until her final illness forced her to retire.
In 1953 she became accompanist and founder member of the Arcadians Amateur Operatic Society, which she continued doing until 1969, when illness prevented her continuing.
She has relationships with three men after her divorce. Stuart Tat, who was a violinist, Albert Cross who was also a violinist and for some time, conductor of the Brotherhood Orchestra and Jo Foster, widower of Mabs Foster, best friend of Murielís mother. She never remarried
In 1955 Murielís father became ill with Leukaemia and many trips were made by the family to the Royal Free Hospital in London where he was being treated. However he died at home on 17th December 1957
From 1956 until her final illness prevented her, she took over from her father as organist at St Mary's Church, Old Letchworth
In 1960 Muriel developed Breast Cancer and had a mastectomy from which she recovered. She spent most of her life looking after her mother and her son.
On 7th June 1969 her son, Robert, married Elaine Kathleen Gill and although this was a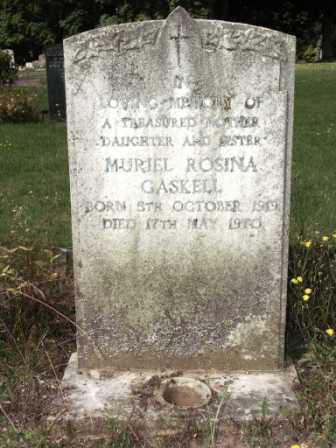 very happy occasion for her she was in the early stages of her final illness, a recurrence of cancer, from which she died on 17th May 1970
Muriel was buried in Letchworth Cemetery Plot BP 123

by email if you want more information or if you have information to give me