Dorothy Rose Turner

Daughter of William Turner and Rosina Symes, mother of Muriel Rosina Owen and husband of Rex Lionel Bert Owen
Dorothy Rose, Rosie, was born at 25 Corporation Street, Walsall on 8th July 1894
In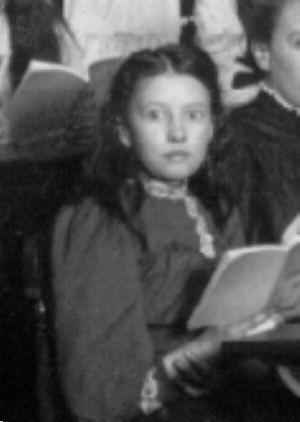 the 1901 Census was living with her parents at 1 Rayleigh Road, Wolverhampton, aged 6.
Rosie at School in about 1908
She left school at 12 to look after her mother, since her older sisters were out at work and younger sisters too young. When she was 14, her older sister, Clara, who worked at Spirella in Letchworth, obtained a job for her there and she learned shorthand and typing. While working there she joined the Drama and Dancing Club. She also played netball for the company. She loved dancing and enjoyed choreography. On one occasion she performed a solo dance at the Pixmore Hall in Letchworth.
Just before she married Rex Lionel Bert Owen on 4th June 1918, she left Spirella. In 1918 her address was Rose Cottage, Pixmore Way, Letchworth. No occupation was recorded on the marriage certificate.
She moved with Rex to Felixstowe and soon afterwards worked in Cambridge where Rex may have been briefly stationed. On the birth of her daughter, Muriel in 1919 in Letchworth, she stooped work.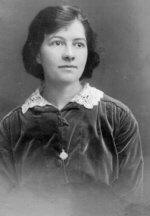 Rosie in about 1916
She joined the Mothers Union after Muriel's birth and occasionally attended St Michael's Church and St Gabriel's Church in Letchworth. She spent the rest of her life, after finishing work, looking after her children, her grandson, Robert and later her daughter, Linda's, children and often helped with her great grandchildren, Robert and Clare.
After Rex's death in 1957, she joined the Townswomen's Guild in Letchworth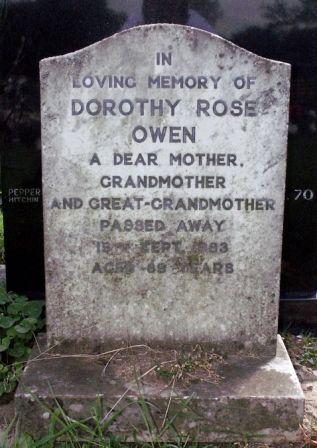 Rosie died on 15th September 1983
Probate of Rosie's will granted to Ann Linda Dorothy Griggs (daughter) and Robert Owen Hugh Gaskell (grandson). Gross value of estate not exceeding £40,000.
Rosie's gravestone in Letchworth Cemetery. Plot X55

by email if you want more information or if you have information to give me