Son of Henry Tomkins Turton and Sarah Slater, father of Henry Thomkins Turton and husband of Sarah Ann Ward
Henry was born on 8th February 1856 at 4 Jamaica Row, Birmingham; his father was then a Master Rope Maker.
According to the 1871 Census, Henry, aged 15, was a Clicker, living with his brother Frederick W, aged 13, a Scholar, and sister, Sarah A, aged 16 , an Assistant Rope Turner. They were living at 4 Jamaica Row, St Martin, Birmingham, as brothers and sister in law of Thomas Hill, the Head of the household, aged 25, a Chaser Embosser,, and his wife Mary, aged 20, a Rope Turner Mfr, and one daughter, Annie L Hill, aged 7 months and a Cousin, Jane Charlton, aged 17. All were born in Birmingham and Mary Hill was a sister of the Turtons.
He married Sarah Ann Ward, born on 17th September 1850 at 48 Paradise Street, Birmingham, on 8th February 1877 in Edgbaston Parish Church, Birmingham. Henry was still a Clicker and his father was a Ropemaker. Sarah's father, Henry Salter, was a ………… and witnesses were S Hill and H Ward. At the time of his son, Henry Tomkins' birth in 1881 Henry was a silversmith

Sarah Ann Ward
Henry and Sarah had 4 children. Their ages are estimated from the 1891 Census. Sarah was by then a widow aged 40
Lilian Turton born on 7th July 1878 and died on 13th March 1879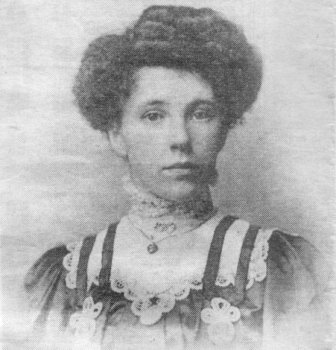 Alice May Turton was born early 1880. She married William H Tooker, a Traindriver, born in Plymouth in 1875, and they had two children, Gladys, who married Mr Guise and Oliver, who was captured by the Japanese during the Second World War and made to work on the Burma Railway; he died soon after the War
Henry Tomkins Turton born 19th August 1881 in Birmingham
Alfred Ernest Turton born on 23rd April 1883 in Balsall, Worcestershire. He emigrated to Australia
Wilfred Eugene Turton born on 28th December 1884 in Balsall, Worcestershire He married Ada Reeves in 1910; Wilfred was 26 and Ada 18. Wilfred died on 23rd January 1947 and was living at 85 Grange Road, Kings Heath, Birmingham. Ada died in 1956. Wilfred and Ada are buried in Brandwood Cemetery, Kings Heath. Wilfred and Ada had the following children
Ivy May Turton born on 1st February 1911. She married Raymond George Inshaw in 1936. They did not have any children
Arnold Eugene Turton born c.1914. He married his wife Lily and they had a daughter
Jean Turton
Arnold secondly married Francoise and they had a son
Pierre Turton born in 1954
Edna Olive Turton born on 2nd may 1916. She married Edward Precious in 1936 and they had two children
Jill Precious born in 194O
Hazel Precious born in 1942
Alan Turton born in 1920 and died a few months later
Marie Elizabeth Turton born in 1933. She married Bill Moran and is now a widow
According to the 1881 Census, Henry, aged 25 and Sarah, aged 30, were living at 19 Skinner Street, Birmingham, with their daughter, May aged 1 and Henry's sister in law, Harriet Want (?Ward) aged 29 – both May and Harriett were also born in
Birmingham .
Henry died on 15th September 1884
According to the 1891 Census, Sarah Ann Turton, widow, aged 40, was living at 2 Heyworth or Keyworth Road, Balsall Heath, Kings Norton. She was a lacemaker. Also present were Alice, aged 11, a scholar; Henry, aged 9, a scholar; Alfred and Wilfred, both aged 7 and both scholars. Harriet Ward, Ann's spinster sister, aged 43 and also a lacemaker, was staying with them. All were born in Birmingham
According to the 1901 Census the family were living at 2 Keyworth Place, Balsall Heath, Birmingham. Sarah was head of the household, aged 50, and the following were present.
Alice M Turton aged 21, a Millener's Assistant
Henry Turton aged 19, a Parcel Box Maker
Alfred Turton aged 17, an Apprentice Carpenter
Wifred E Turton aged 16, a Thimble Burnisher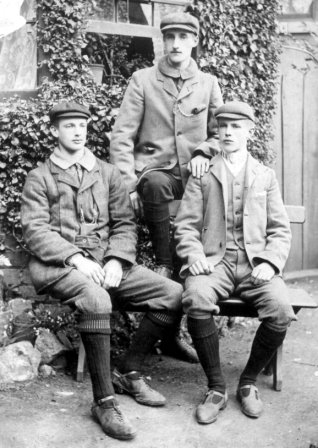 According to the marriage certificate of Henry and Sarah's son, Henry, Henry's job prior to death was that of a Boot Clicker (Foreman shoemaker who cut out the leather and gave out the work)
Alfred, Henry and Wilfred. Left to right

by email if you want more information or if you have information to give me