Madocus Kynaston

Son of Johannes Kynaston and Agnes Llewellyn, father of Johannes Kynaston and husband of Isolda de Percy
Madocus (also known as Madoc) Kynaston, born c.1350, was of Stokkes, Ellesmere, Shropshire.
He married Isolda de Percy, daughter of Henry Percy, first Earl of Northumberland, and Margaret Neville, c.1374. Isolda's brother, Sir Henry Percy known as "Hotspur" and born on 20th May 1364, led the forces against King Henry IV at the Battle of Shrewsbury – he was killed at the battle fighting on the opposite side to his brother in law, Madocus, who was killed at the Battle of on 21st July 1403.
Madocus and Isolda had one son recorded: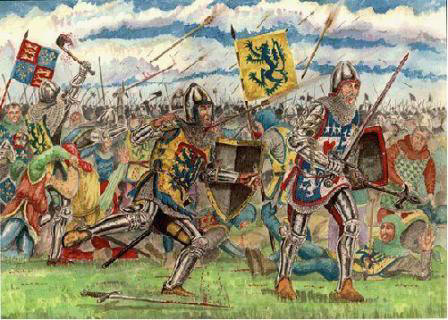 Hotspur" at the Battle of Shrewsbury
Isolda was borne c.1359 and died in 1435. Also in 1435 she enfeoffed lands of Lye by Elliesmere as Isolda, widow of Madoc Kynaston.
The above data comes from the 1623 Visitation to Shropshire, recorded by John Kynaston, eldest son of Edward Kynaston and Katherine Lloyd
Other sources
"Mainwaring of Oteley" in "Burkes Landed Gentry" Vol. II, pp.421.

by email if you want more information or if you have information to give me