Humphrey Kynaston

Son of Sir Rogerus Kynaston and Lady Elizabetha Grey, father of Rogerus Kynaston and husband of Isabella verch Meredith ap Howell ap Morrice de Oswalestre
Humphrey of Myddle Castle and Morton Manor, Shropshire was born c.1468 and married, firstly Mariona ap Griffith, daughter of Willimus ap Griffith ap Robin. They had a two children:
Edwardus Kynaston who died young
Isabella Kynaston who married Johannes Trenor of Oswaldestre (Oswestry), Shropshire.
Humphrey secondly married Isabella (Ysabella) verch Meredith ap Howell ap Morrice de Oswaldestre daughter of Maredudd ap Hywel ap Maurice of Glascoed and Thomasina Ireland of Wrexham, Denbighshire. A Ralph Ireland was a witness to Humphrey's will. Maredudd ap Hywel was then son of Hywel ap Morus and Magred Ferch Hywel, the daughter of Hywel ap Ieuan, Thomasina Ireland was the daughter of Richard Ireland and Tibot Salter, the daughter of Roger Salter.
Humphrey and Elizabeth had the following children.
Margaretta Kynaston
who was borne c, 1515 and she married Johannes ap Iuan ap Owen and they had a son, Humphrey Wynn
Edwardus Kynaston who was borne about 1517. He was the second son and heir. He was of Horley (Hordley) and he married, firstly, Margaretta Kynaston, daughter of Humfridus Kynaston of Stokes, Shropshire on 24th June 1550; they had three children
Elizabetha Kynaston who married Thomas Trevor of Oswaldestre
Jana Kynaston who married Edwardus Penrine of Landrinio, Montgomeryshire
Anthonicus Kynaston descendants are not known
Secondly, Edward married Margaretta Lloyd, daughter of Edwardus Lloyd of Llanemayne; They had 19 children and a line of descent at least up to 1623
Thomasina Kynaston
was borne c. 1519 and died without issue
Robertus Kynaston was borne c.1519 and died without issue
Jana Kynaston
Gough, the antiquarian, whose knowledge of the history of Myddle is undisputed, wrote of Humphrey at this time: "who from his dissolute and notorious manner of life was named 'The Wild'. At the Assizes held at Stretton on December 20th 1491, it was alleged that Humphrey was concerned with others, in the murder of John Hughes at Stretton. Evidence was given that on the day of the murder, Humphrey Kynaston, Thomas Kynaston, and Robert Hopton who were out riding together, came upon John Hughes. Humphrey struck him on the right side of the breast with a lance thus killing him. Whereupon Thomas Kynaston then lifted his sword and struck Hughes on the left side of head, while Hopton struck him with a bill on the calf of the left leg. A verdict of " Wilful murder" was returned on all three men. It transpired that this event and the enormous debts he had contracted by his imprudent activities finally led him to flee from Myddle Castle, which he had allowed to fall into ruins, and to take shelter in a cave in the west point of Nesscliffe Rock, called to this day Kynaston's Cave.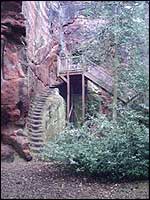 Kynaston's cave in Nesscliffe.
He was declared an Outlaw by Henry VII in 1491. This cave is spacious and even comfortable, being divided into two rooms by a strong pillar of the rock. One of these apartments was the stall of the outlaw's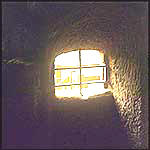 celebrated horse, which some to this day, believe to have been the devil.
The inside of the cave
This horse was often turned to graze in the neighbouring fields, and would instantly ascend the steps of the cave when his master whistled. In all his deprecatory adventures Humphrey seems to have a regard for some sort of justice, for what he took from the rich he gave freely to the poor, by whom he was much beloved. Most of the adventures ascribed to him, whether probable or improbable, seem to have been more dictated by whim than a desire to plunder. He had a plentiful supply of hay, corn, and other necessaries from the people around, the rich paying him tribute through fear, and the poor from gratitude." He was pardoned his crimes by Henry VIII on 20th May 1517
At one point, Humphrey was Constable of Myddle Castle
"Among the banners of those who entered France 16 June 1513 occurs ' Shrop. – Homffray Kynaston and Thomas Trentham a C men wyth owtten Standert' " This is recorded in the 1623 Visitation and probably led to Humphrey's pardon.
Humphrey's will was dated 1st May 1534 and proved on 26th January 1534/35. He left all his land and tenements in England and Wales to his eldest son, Edward, with the exception of the demesne of Knockyn, which was enfeoffed to his younger son, Roger, and wife. Many other relatives are mentioned in the will
All the above data comes from the 1623 Visitation to Shropshire, recorded by John Kynaston, eldest son of Edward Kynaston and Katherine Lloyd
Other sources
1. Faris, D. "Plantagenet Ancestory of Seventeenth-Century Colonists" pp.169.
2. Evans, C.F.H. and Leet, I.H. "Thomas Lloyd, Dolobran to Pennsylvania" pp.6.
3. Roberts, G.B. "The Royal Descents of 500 Immigrants to the American Colonies or the United States" pp.82.
4. Weis, F.L. "The Magna Charta Sureties, 1215" line 31.

by email if you want more information or if you have information to give me