Elizabeth Cunnington

Daughter of William Cunnington and Aley Pickering, mother of Kathleen Ditchburn and wife of Thomas Ditchburn
Elizabeth was born on 5th February 1870 at Broxa, near Scarborough. See Appendix GL56.1 for a copy of the certificate.
She was baptised in Hackness, also near Scarborough, on 10th April 1870.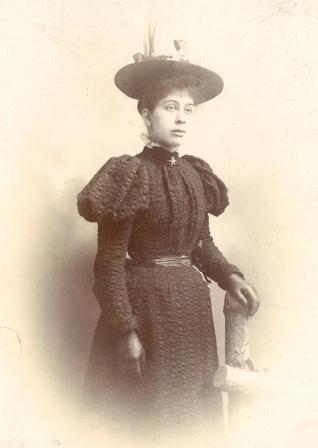 She was a maid until her first marriage.
Elizabeth, aged 17
Elizabeth's first marriage was to a Herbert Clarke by whom she had one daughter, Lucy, who did not marry and a son Edward, born in 1900, known as Ted, who committed suicide in mid September 1958.
According to the 1901 Census, Elizabeth and Herbert were living at 1 Stanley Street, Scarborough in the Parish of St Mary's. Elizabeth was aged 30 and Herbert 28. Herbert was born in West Ayton. Edward, their son, was also present, aged 9 months.
Elizabeth secondly married Thomas Ditchburn in April 1910.
Elizabeth died c.1947 and is buried in Scarborough cemetery

by email if you want more information or if you have information to give me