Son of Walter Merry and Elizabeth Mary Byrch, father of Dr William Joseph Collings Merry and husband of Alice E Collings
William was born in Evesham, Worcestershire on 6th September 1835, the only son of Walter Merry of Evesham and Elizabeth Mary Byrch
According to the 1841 Census, William, aged 5, was living with his mother, and sisters, Emily, aged 9 and Marion, aged 7. They were living in Fladbury, Worcestershire. He entered Cheltenham College as a day boy in 1846
In 1851 according to the Census, the family were living in Cheltenham. Elizabeth was an Annuitant, aged 43 and born in Cheltenham. The following children were present
Emily M Merry aged 19 and born in Middlesex, London
Marion E Merry aged 17 and born in Middlesex, London
William Merry aged 15, a scholar, born in Evesham, Worcestershire
Two servants were also present
On 30th November 1852, William matriculated at the age of 17 into Balliol College, Oxford. He was a scholar from 1852 until 1857, when he graduated BA. He obtained MA in 1859 and from that year until 1884, he was a Fellow of Lincoln College, Oxford. In 1860 he was a Tutor and Librarian. And ordained Deacon and Priest in 1861.
According to the 1861 Census, William, aged 25, and a Clergyman, without care of souls, was a visitor at the home of his future wife, Alice E Collings of 2 Grange Road, St Peter Port, Guernsey. Those present in the house were:
Joseph Collings aged 52, a Banker and Consul, born in St Peter Port
Catherine Collings aged 48 and born in St Peter Port
Alice E Collings aged 22 and born in St Peter Port
William W Merry
In 1862 he was presented by his college with the perpetual curacy as Vicar of All Saints, Oxford. As this living was also a college chaplaincy, his tenure of it enabled him to retain his fellowship on his marriage, in the same year, to Alice Elizabeth Collings, only daughter of Joseph Collings, then Jurat of the Royal Court of Guernsey.
In 1871, according to the Census, William was married to Alice and living in North Elms, The Parks, St Giles, Oxford.. William was 36 and Alice 32. William was the Vicar of All Saints, Oxford and a fellow and MA Lincoln College, Oxford. Children, present, all born in Oxford, were:
Walter W Merry aged 7 and a Scholar
Alice Catherine Collings Merry aged 6 and a Scholar. (Born Sep Q 1864 Headington 3A 530)
William Joseph Collings Merry aged 3
Four servants were present
In 1870 until 1873 he was a Tutor and a Classical Lecturer from 1873 until 1885. William was Classical Moderator from 1863 until 1864 and 1869 until 1871 and 1874 and 180 until 1883 until 1877. He was a Public Orator in 1880.
He was Select Preacher from 1878 until 1879 and Whitehall Preacher from 1883 until 1884
According to the 1881 Census, Rev William Walter Merry was a visitor at Eton College, aged 45, still Vicar of All Saints, Oxford and a Public Orator. The rest of the family, except Walter, were still at the same address in Oxford. Alice was 16; William was 13, a Scholar; plus an additional child:
Mabel Elizabeth Merry aged 9 and a Scholar (born March Q 1872 Headington 3A 654)
William was Bursar of Lincoln College in 1884 and Rector in 1885
In 1886 he obtained BD and DD.
According to the 1881 Census, Elizabeth was staying in Plymouth, a feud holder, with her daughter, Emily, also a feud holder.
Plus 2 servants
According to the 1891 Census, Alice, aged 52, with her daughter, Mabel, aged 19, were staying with Alice's parents at 1 Grange Place, St Peter Port, Guernsey. Those in the house besides Alice and Mabel were:
Joseph Collings aged 82 a Magistrate and retired banker
Catherine L Collings aged 78
Plus 3 servants
In 1891 Alice Merry, daughter of William and Alice, aged 25, was living with her Aunt and Uncle at Maritime House, Crayford, Kent. The family were:
Theadore Pim aged 44 Stock Broker Agent born in Ireland on 7th April 1745, April in Monkstone Lodge. Monkstone, Dublin (Uncle)
Annie Pim aged 40 and born in Oxford (Aunt)
Plus 2 servants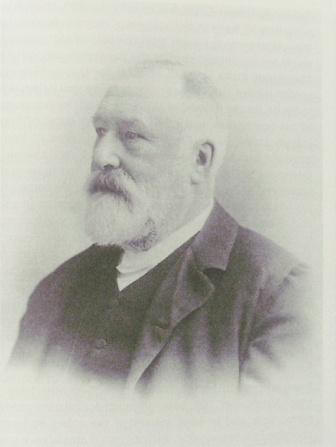 In 1901 William's wife, Alice, aged 62 was living in Lincoln College Rector's House, Oxford, with her daughter Mabel E Shuster aged 29 and her son in Law, Claude Shuster, aged 31, a Barrister at Law born in Eccles, Lancashire, plus her grandson, Christopher G Shuster aged 2, born in Fulham, London.
From 1904 until 1906 William was also Vice-Chancellor of the College
According to Who's Who in the World 1910 -1911, William was still Rector of Lincoln College, Oxford
William died on 5th March 1918 and was buried beside his wife, who died in 1914, in Holywell Cemetery, Oxford. His wealth at death was £14,188 5s 10d and probate was granted on 26th April 1918.