Herbert Snow, born on 29th June 1835 and baptised on 29th June 1835 at St James Church, Westminster, London. He was educated at College and was admitted pensioner. at St John's College, Cambridge on 8th June 1852. He matriculated Michaelmas. 1853; Scholar 1853; He was a Porson Scholar in 1855 and won the Browne medal in 1856; the Camden medal also in 1856;. He graduated B.A. in 1857, M.A. in 1860, B.D. in 1881, D.D. in 1882 and a Fellow from 1858-60.He was a Rowing blue in1856 and 1857. Herbert was Ordained Deacon at Buckingham by the Bishop of Oxford, S Wilberforce, on 20th Marsh 1859 and Priest at Cuddesdon in 1860. He was Assistant Master at Eton from 1858-1874,. Principal of Cheltenham College from 1874-1888, Vicar. of St Luke's, New Kentish Town from 1888-1889, Professor of Greek at Durham University from 1889-1910.
He assumed the surname of Kynaston, in 1875 by deed poll; this was at the request of his Uncle, Herbert Kynaston, who was anxious that the old family name should not become extinct.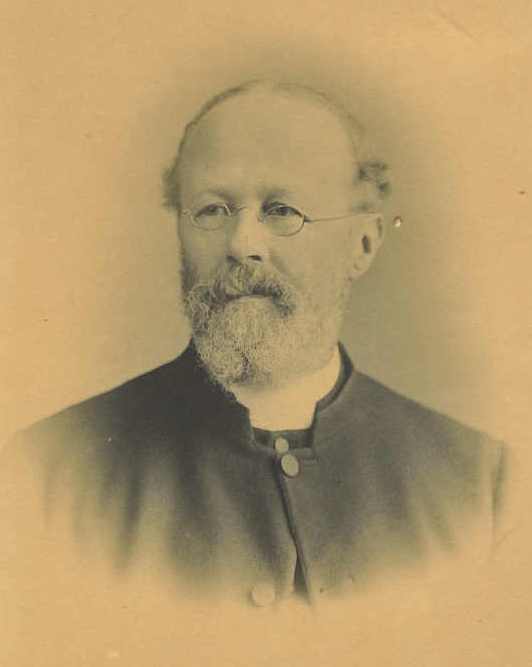 He was a Member of the Alpine Club, a prominent Freemason; Grand Chaplain of England. He spoke in five or six languages and could improvise effective poetical translations: Once, in less than 2 hours, he rendered an Italian song into English verse which fitted the music. He died on 1st August 1910.
Herbert Snow (Kynaston)
According to the 1851 Census, Herbert was a boarder at Eton College aged 15.
Herbert married firstly Mary Louisa Anne Bros, daughter of Thomas Bros, a Barrister, on 8th August 1860. Herbert and Mary had the following children
William Herbert Snow born on 23rd August 1861 and baptised on 21st September 186 in the College Chapel at Eton by his father. According to the 1871 Census, he was a pupil at Eton College aged 9, where he was educated as well as at Cheltenham College. He was admitted Pensioner. at St John's College, Cambridge on 3rd October 1881. He Matriculated Michaelmas. 1881, graduating B.A. in 1884. He was Ordained Deacon at Durham in 1885, Priest in 1887; Curate of St Peter's, Bishop Auckland from 1885-1889, Curate. of Annesley, Nottinghamshire from 1889-1890; Vicar. there from 1890-1914. In 1910 he married. He was licensed to preach in the Diocese of Southwark from 1914-1939 and the Diocese of Lincoln from 1914-1941. He was also a Canon and Prebendary of Lincoln from 1922-1948 and Vice-Chancellor of Lincoln Cathedral from 1938-1948. He died on 21st May 1952 in Lincoln
Robert Snow born on 14th January 1863 and was baptised by his father in Eton College Chapel as Robert Kynaston. He married Clara ? and they had three children. According to the 1871 Census, Robert, aged 8 and born in Eton was staying with his grandparents, Thomas Bros aged 67, JP and Berkshire Recorder, born in London and Jane aged 60 a Barrister at Law; Emily Bros aged 22, born in Westminster, their daughter and Denis Richards, aged 62, an Artist, brother of Jane. Plus six servants
Mary Snow born in April 1864 and was baptised by her father in Eton College Chapel. She married, as Mary Kynaston Dr Geoffrey Edward Hale of Eton in mid 1894 in Durham Registration District. They had four children. According to the 1901 Census, Mary aged 34 and Geoffrey aged 35, a Medical Practioner, were living at 39 High Street, Eton. Children present were: Richard aged 5 and Margaret aged 3. There were three servants Mary died on 8th May 1957 at Hursley Lodge, Lincoln. Known information of the children:
Edward Hale born in 1895 and married Joan Bateson in 1930. They had two daughters
Prudence Beatrice Hale born on 23rd March 1932
Frances Margaret Hale born on 13th July 1934
Margaret Hale born in 1898
Geoffrey Hale born in 1905 and married Elizabeth Carter . They had a son and a daughter
Mary Kynaston inherited a considerable amount of Kynaston data and sought data form other members of the Kynaston family, which she passed to her half brother's son Dr Roger Ian Kynaston since he and his daughter, Georgina Joan Kynaston, carried on the Kynaston name
Mary died on 25th April 1864 and was buried at Clewer, near Windsor. Herbert then married Charlotte Cordeaux, daughter of Rev John Cordeaux of Hooton Roberts, on 8th August 1865 in Hoyland. They had the following children
Margaret Snow known as "Marna" in the family was born on 19th September 1866 and was baptised by her father in Eton College Chapel on 1st November 1866. She married in Cheltenham Registration District, as Margaret Kynaston, on 27th October 1887 at St Luke's Church by the Bishop of Newcastle, Howard Pease of Pendover; Enfield Lodge, Newcastle-upon-Tyne; and Otterburn Tower, Northumberland. Her final home was The old Mill House at Bray, where she died on 31st August 1947
Edith Snow born in July 1867 and baptised at Eton College Chapel by Rev Herbert Kynaston on 1st August 1867. She died later on 8th December 1867 and was buried in Clewer Cemetery on 13th December
Herbert Snow, known in the family as "Bertie", was born on 19th July 1868. Educated at Eton and Cheltenham Schools. Admitted at Kings College, Cambridge on 1st October, 1887, Matriculated. Michaelmas. 1887; He was a Worts student; Scholar in 1890 and Harkness Scholar in 1891. He graduated B.A. (Nat. Science Trip., Pt II, 1st Class) in 1891. He was a Tutor on the Continent and in the Canary Isles. Herbert was appointed to the Geological Survey of Scotland in 1895 and was appointed F.G.S in 1891. He became Durham University Extension Lecturer in Geology from 1895-7 and the Director of the Geological Survey of the Transvaal from 1903-12 and of South Africa from 1912-15. He married Jean May McGregor on 12th March 1902 in St Giles Church, Edinburgh. Bertie and Jean met while he was undertaking the geological survey of Scotland. Herbert died on 28th June 1915 in Pretoria, South Africa and Jean, who was born on 21st January 1878, died on 6th January 1958 in Belvidere, Kent. She was cremated at Eltham Cemetary on 11th January They had two children:
Dr Roger Ian Kynaston was born on 5th December 1906. He married Joan Beryl Palmer, daughter of Alfred Palmer. Roger died in October 1969 and was cremated at Beckenham on 3rd November and Joan died on 13th September 2002. They had, in turn one daughter
Georgina Joan Kynaston born on 3rd August 1942
Alan Herbert Kynaston who married Marjory Helen Randall. They had one son
Stuart Kynaston
According to the 1871 Census, Herbert Snow aged 35 and Charlotte aged 30, born in Whiston, Yorkshire, were staying at 83 Marina Court, Hastings. Herbert, however, was an Assistant Master at Eton. Children present, all born in Eton, were: Mary aged 6; Margaret aged 4 and Herbert aged 2. Also, present were three visitors, a nurse and 3 servants
Rev Philip Edmund Snow MA born on 8th December 1871 was baptised in Eton College Chapel and was educated at Eton College. He was admmited at Kings College, Cambridge on 30th September 1890 . He matriculated. Michaelmas. 1890 and graduated B.A. in 1893. He lived in Paris, Lausanne and Heidelberg, studying Modern Languages and was Modern Languages master at Eton for two years. He was Ordained Deacon of Southwell in 1898 and Priest in 1899. He was Curate of St Mary's, Nottingham, from 1898-1899; Cuarte of Stanhope, Durham from 1900-1904. Rector. of Kinnersley, Shropshire from 1904-1908. Vicar. of Holy Trinity, Shrewsbury form 1908-1912. Priest-in-charge at Umtali, Rhodesia from 1912-1919. Assistant Priest at Bulawayo from 1919-1921. Priest-in-charge of Francistown from 1921-1923. Chaplain of Irene Homes, Irene and Priest-in-charge of Irene Chapelry, Pretoria from 1923-1930. Principal of St Bede's College, Umtata, Cape Province, from 1930-41. He was then Licensed to officiate in the Diocese of Grahamstown from 1941-1948. He married Frances Annie Pulleine as Philip Edmund Kynaston in the County of Durham in mid 1904. Philip and Frances did not have any children. Phillip died in Queenstown, South Africa on 20th September 1953
Eleanor Charlotte Snow born on 17th December 1873 and baptised in Eton Chapel by Rev Herbert Kynaston. She married William Joseph Collins Merry O.B.E. M.A. M.D. as Eleanor Charlotte Kynaston in the County of Durham in mid 1896. According to the 1901 Census, the family were living at 2 Howard Square, Eastbourne, Sussex. William, aged 33, a Medical Practioner, Surgeon, was born in Oxford on 29th June 1867, the son of the Rev William Walter Merry and Alice Collings. Eleanor his wife, was aged 27 and born in Eton. Eleanor and William had two children:
Marjory A Merry aged 3 in 1901and born in London
Joseph Merry
William died on 13th April 1922 and was buried in Ochlynge Cemetery, Eastbourne; Grave UD245. The inscription reads "Dying and behold we live, have nothing yet possessing all things"
Eleanor died on 16th June 1956 aged 82. She died in Lammermoor Nursing Home, Frinton-on-Sea but was previously living at 156 Gloucester Place, London
According to the 1881 Census, Herbert, aged 45, Principal of Cheltenham College M.A., was living at Montpellier, Bath Road, Cheltenham, with Charlotte, aged 40, born in Yorkshire, and the following children: William Herbert aged 19, born in Eton, a scholar; Eleanor Charlotte aged 7, born in Eton and a scholar. Also present was William Cordeaux, Charlotte's brother, aged 35, a Barrister at Law, born in Lancashire. There were also five servants present.