Son of John Gill and Edith Nalton, father of Elaine Kathleen Gill and husband of Kathleen Ditchburn
Ronald was born at 2 Rothbury St, Scarborough on 8th February 1915. He was not baptised until after he entered the Army
At the age of 5 Ronald went to Gladstone Road School and at 11 he passed the Scholarship examination and went to the High School for Boys. After obtaining his School Certificate at about the age of 15, he left school to work for the Co-operative Society in Scarborough as an Apprentice in Provisions; he worked in the shop and delivered groceries as a Grocery Assistant. In 1933 and 34 Ronald passed the First and Intermediate Institute of Certified Grocers Examinations. Also in 1934 he passed Part 1 of the Co-operative Apprentices Managerial Examination. In 1935 and 26, Ronald passed further Co-operative examinations in Grocery, Salesmanship, Book- keeping and Arithmetic

Ronald had known Kathleen Ditchburn since they were both children, and they became attached at the Valentine's Eve Ball in 1936 at The Spa, Scarborough.
Ronald married Kathleen on 6th October 1937 at St Saviours Church, Gladstone Road, Scarborough. The only bridesmaid was Lucy Clarke, Kathleen's half sister and the best man was Ronald's friend, Basil Duggleby.
Ronald and Kathleen spent their honeymoon in a Guest House in Dragon Parade, Harrogate.
Their first daughter Pamela was borne at 36 Cambridge Street on 15th April 1938.
He joined the relevant Trade Union at the Co-op and his membership was the cause of concern when he joined the Army. He enlisted into the Royal Army Service Corps as a Private on 8th March 1940 in Scarborough. On 1st April he was posted to 184 Company, despite an Agreement that he could be present at the birth of his son, Terry, on 15th April 1940, he was not allowed home. On 29th April he was posted to 283 Petrol Company, to 15th Divisional Ammunition Company on 16th May and 82 Company on 12th July.
Ronald was recommended for Officer Training at Sandhurst and posted to 101 Officer Cadet Training Unit on 2nd August. He was discharged from Sandhurst, having been appointed to a commission, on 3rd January 1941.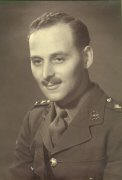 Ronald was commissioned as 2nd Lieutenant the Royal Tank Regiment, 56th Training Regiment, on 4th January 1941.
On 14th January 1941 Ronald was posted to 10th Battalion, Royal Tank Regiment and on 2nd July was posted to Royal Armoured Corps Wing Officer Cadet Training Unit for temporary duties as an Instructor in minor tactics for 2 months. To the left is a picture of Ronald during the war.
On 10th April 1942, based at Eastbourne, Second Lieutenant R Gill was appointed Acting Unpaid Lieutenant.
On 4th July 1942, Ronald was promoted Lieutenant, while at Littlehampton and on 26th August Acting Captain.
On 7th October 1942, he was posted to HQ 31 Tank Brigade and on 26th November appointed Temporary Captain
Ronald was baptised and confirmed at Canterbury Cathedral.
On 1st April 1943 the 10th Battalion became the 7th Battalion Royal Tank Regiment after the latter's annihilation in North Africa. The Regiment was then based at Ottenden in Kent. In April 1944 a move to Blackdown and the issue of new Churchill tanks. The Regiment went to France on 20th June (Service Record states 18th June) and operations in which Ronald was engaged included Falaise and then to North East France, Le Havre, in August. On 5th August 1944, Ronald was posted to the 7th Royal Tank Regiment and on 8th November was appointed Acting Major. Then to Dunkirk by January 1945 when a conversion to Crocodile Flame Throwing tanks took place. Crossing the Rhine the Regiment was split into Squadrons to support Brigades and Divisions. Ronald went into Belsen Concentration Camp with Flame Throwers to sterilise the earth. On the 1st May 1945, half "C" Squadron under Captain Gill remained in 152 Brigade Area. At the end of the War the Regiment was in Scheesel and, in August, Krefeld.
Ronald then became a brevet Major in the 7th Royal Tank Regiment, BAOR (British Army of the Rhine) on 8th February 1946. Ronald was based in Hanover. On 6th April 1946 he was despatched to the UK for Class "A" release, disembarked on 9th April and released on 27th June.
Ronald was awarded the following medals
1939 – 45 Star
France & Germany Star
Defence Medal
War Medal 1939 – 45
Ronald was also mentioned in Despatches (London Gazette 8th November 1945)
After the War, Ronald briefly returned to his mother's home but moved in 1946 to his first own home with Kathleen at 31 Warley Drive, Bradford Moor. Ron had obtained a job as Commercial Traveller with Bentley & Maudesley selling Carburol (petrol additive)
After one year and for about one year he worked for Lakeland Foods, again as a Commercial Traveller, selling tinned fruit.
From c.1948 Ronald was the Manager of the Bradford Branch of Goodwin Foster Brown – Flour Company of Dudley noted for flour suitable for cakes and biscuits. Some mixing of flour was undertaken at the Bradford Branch.
On 24th July 1949, another daughter was born, Elaine Kathleen.
On 14th June 1952, Ronald joined the Scottish Horse Royal Armoured Corps Territorial Army for training, which he finished on 28th June.. He remained in the Territorial Army until he relinquished his commission on 1st July 1959 and was granted the honorary rank of Major.
Ronald remained with Goodwin Foster Brown until 1960 when Ronald, Kathleen and Elaine moved to 20 Oakroyd Avenue, Great Dunmow, Essex Ronald had obtained a job as Sales Manager with the Dunmow Flitch Bacon Company Ltd.
In 1963 the family moved again to 4 Green Lane, Martlesham, Suffolk when Ronald took up the appointment of Sales Manager with C & T Harris (Calne) Ltd.
In 1964 the family moved again to 56 Howard Drive, Letchworth, Herts. Ronald had obtained the job of Sales Manager, later Sales Director, with the Letchworth Bacon Company. He remained with this company until he started his own wholesale meat business, York House, in Dunstable in 1970. Illness caused Ronald to sell his business in 1978 and in 1985 Ron and Kathleen moved to 27 The Dale, where he lived with Kath until Ronald's death in 1991
Ronald had been an active Freemason for many years and was, until his death a member of Cecil Lodge in Letchworth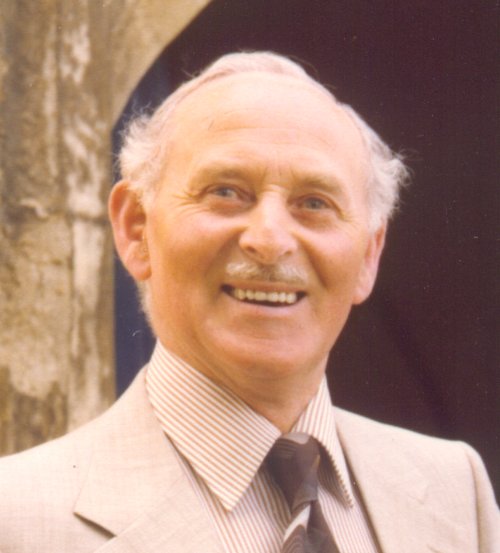 Ron in the mid 1980's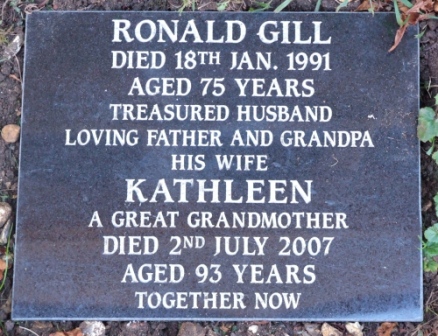 Ronald died in Lister Hospital on 18th January 1991. The funeral service was held at St Mary's Church, Old Letchworth and he was cremated at Stopsley , near Luton. His ashes were buried beneath a black granite plaque in St Mary's churchyard, upon which was written the words on the picture to the left, later to include Kathleen on her death in 2007

by email if you want more information or if you have information to give me